Pathway to Membership Class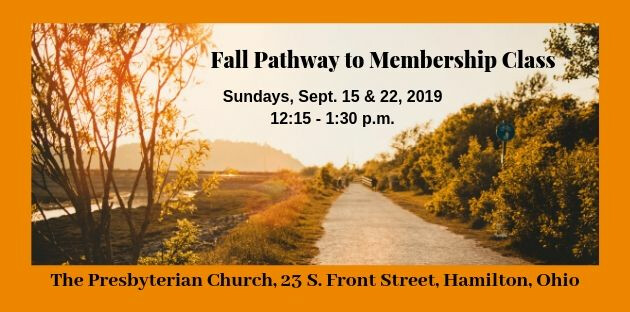 Every Sunday, from 09/15/2019 to 09/22/2019, 12:15 PM - 1:30 PM
WORSHIP*GROW*SERVE
PATHWAY MEMBERSHIP CLASS is an opportunity for interested individuals to become acquainted with our church and for prospective members to learn about membership. This is a 2-week class that will meet on Sundays from 12:15 p.m. - 1:30 p.m. (September 15 & 22) in the Mix & Mingle Room of the Front Street Building.
A light lunch will be provided. Classes will be led by our Pastor and staff and will address the topics of what it means to be a follower of Jesus, what it means to be a Presbyterian, and what it means to be a member of this church.
This program is designed to present biblical doctrine, explain church organization, and foster friendship among participants. Find your place to belong in this church family!
Register by calling our secretary, Trish Reynolds, in the church office by September 10. (513-867-5411) New members will be introduced to the Session on Monday, October 21, and received by the church on Sunday, November 10, at the worship service of their choice.