Fall Women's Bible Study (Day)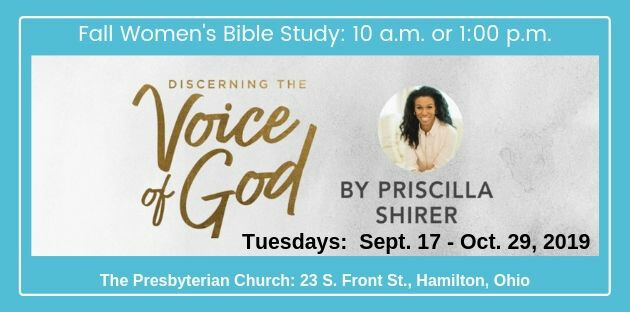 Every Tuesday, from 09/17/2019 to 10/29/2019, 10:00 AM - 2:30 PM
We are happy to announce our Fall Women's Daytime Bible Study: ALL women are welcome!
"Discerning the Voice of God" by Priscilla Shirer
Though 7 video/discussion sessions, discover the root to clear and daily communication with God - humble obedience. Learn how surrender unlocks His many blessings intended for us in His will, and helps us discern His voice in everyday life.
WHEN: Tuesdays, September 17 - October 29, 2019
10:00 - 11:30 a.m. or 1:00 - 3:00 p.m.
WHERE: The Presbyterian Church; 23 S. Front St., Hamilton, Ohio (Front Street Building: Park in the lot behind the building and come in the back door where the steps are. Study is in the Mix & Mingle Room.)
COST: $16 for materials
REGISTRATION IS NOW OPEN BY CALLING THE CHURCH OFFICE: 513-867-5411 and letting them know whether you are interested in the Morning or Afternoon study. PRE-REGISTRATION IS REQUIRED TO ENSURE YOU HAVE A WORKBOOK THE FIRST DAY OF CLASS.