Dave Ramsey 2019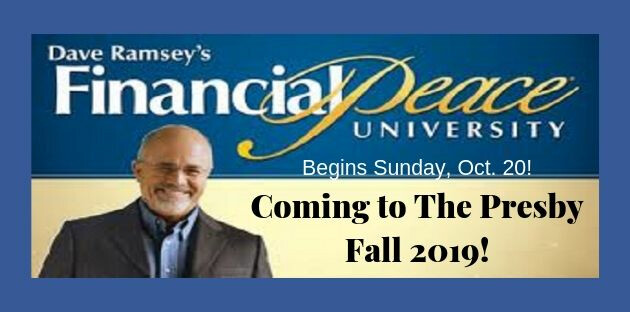 Every Sunday, from 10/20/2019 to 12/15/2019, 12:00 PM - 1:30 PM
With Dave Ramsey's Financial Peace University, you will experience the proven plan to master budgeting, dump debt, save money, and build wealth so you will never have to worry about money again! Come join us as Aaron & Tiffany Webb (graduates of our first Financial Peace University class) facilitate our new class beginning Sunday, October 20. Class is open to EVERYONE so invite a friend to come with you! If you have taken this class before and would like a refresher, now is the time because this is a completely new set of videos featuring not only Dave Ramsey, but his daughter Rachel Cruze, and Chris Hogan. Here are the details:
WHEN: Sundays, Oct. 20 - Dec. 15; Noon - 1:30 p.m.
WHERE: The Presbyterian Church of Hamilton
23 S. Front Street
Presby Lounge (Basement of Front Street Building)
Snacks will be provided and babysitting if needed.
COST: $110.00 (Scholarships available)
As a class member, you will watch nine video lessons taught by Dave Ramsey, Chris Hogan, and Rachel Cruz. You will follow along in your workbook which is packed with notes, activities, and action steps. Members will also receive a FREE one-year Financial Peace Membership which is the online resource center that supports the class.
CALL THE CHURCH OFFICE ASAP AND ASK FOR ROSIE JENNINGS: 513-867-5411. SHE IS OUR DIRECTOR OF FAMILY MINISTRIES AND WILL MAKE SURE THAT YOU ARE REGISTERED AND HAVE THE MATERIALS YOU NEED ON THE FIRST DAY OF CLASS. SHE CAN ALSO ANSWER ANY QUESTIONS YOU MIGHT HAVE.