February 2, 2020
"How do you face your Giants?"
1 Samuel 17:4-11 New International Version (NIV)
4 A champion named Goliath, who was from Gath, came out of the Philistine camp. His height was six cubits and a span.[a] 5 He had a bronze helmet on his head and wore a coat of scale armor of bronze weighing five thousand shekels[b]; 6 on his legs he wore bronze greaves, and a bronze javelin was slung on his back. 7 His spear shaft was like a weaver's rod, and its iron point weighed six hundred shekels.[c] His shield bearer went ahead of him.
8 Goliath stood and shouted to the ranks of Israel, "Why do you come out and line up for battle? Am I not a Philistine, and are you not the servants of Saul? Choose a man and have him come down to me. 9 If he is able to fight and kill me, we will become your subjects; but if I overcome him and kill him, you will become our subjects and serve us." 10 Then the Philistine said, "This day I defy the armies of Israel! Give me a man and let us fight each other." 11 On hearing the Philistine's words, Saul and all the Israelites were dismayed and terrified.
9:30am Traditional Service - Front St. Sanctuary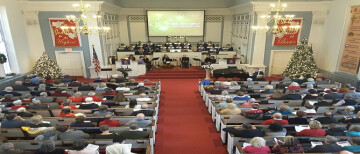 INTROIT: "Surely the Presence"
Celebration Singers
PRELUDE: "God's Time is the Best" - J.S. Bach
HYMN: #482 - Praise Ye the Lord, the Almighty
SPECIAL MUSIC: "See the Bread, See the Wine" - Althouse
Celebration Singers
OFFERTORY: "O Come to the Altar" - arr. Shackley
HYMN: #513 -Let Us Break Bread Together
POSTLUDE: Down to the River to Pray - arr. Wagner
10:45am Praise Service - Court St. Sanctuary


SONGS
"I am"
"Stand in Your Love"
"What a Beautiful Name"
"O Come to the Altar"
"What a Friend we have in Jesus"