September 22, 2019
"Stewardship: Cheerful Giving"
1 Timothy 6:17-19 New International Version (NIV)
17 Command those who are rich in this present world not to be arrogant nor to put their hope in wealth, which is so uncertain, but to put their hope in God, who richly provides us with everything for our enjoyment. 18 Command them to do good, to be rich in good deeds, and to be generous and willing to share. 19 In this way they will lay up treasure for themselves as a firm foundation for the coming age, so that they may take hold of the life that is truly life.

9:30 Traditional Service - Front Street Sanctuary
INTROIT: "Praise the Lord!"- Yannerella
Celebration Singers
PRELUDE: "Gloria" (from Twelfth Mass) - Mozart
HYMN: #467 - How Great Thou Art
SPECIAL MUSIC: "In Christ Alone" - arr. Wyrtzen
Celebration Singers
OFFERTORY: "A Joyous Acclamation" - Smith
HYMN: #476 - O Worship the King, All Glorious Above
POSTLUDE: "Psalm of Glory" - Wells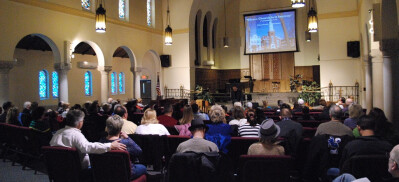 10:45 a.m. Praise Service - Court Street Sanctuary
Music
"Found In You"
"Holy is the Lord"
"10,000 Reasons"
"Build My Life"
"Old Church Choir"