Winter Women's Bible Study (Evening)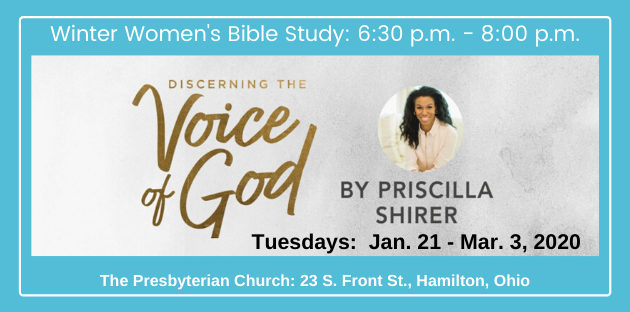 Every Tuesday, from 01/21/2020 to 03/03/2020, 6:30 PM - 8:30 PM
Ladies,
We are excited to announce that our Winter Women's Bible Evening Study will again feature well-known author and Bible scholar, Priscilla Shirer!!
The name of your study will be "Discerning the Voice of God". It comes highly recommended by both the morning and afternoon Bible study groups who completed the study last fall. Updated and expanded, this revised study includes weekly insights from author and pastor (and Priscilla's father), Dr. Tony Evans, plus daily opportunities to:
More deeply understand the Holy Spirit's role in your life.

Differentiate His voice from imposters' voices, even from your own.

Glimpse His guidance in your everyday life.

Grow consistently in obedience, surrender, stillness, and humility.
To be sure that you have a study guide on the first day of Bible Study, please call the church office at 513-867-5411 and let them know you are registering for the Evening Women's Bible Study. The cost is $16.00 (payable on the first night of class).