Music & Drama Camp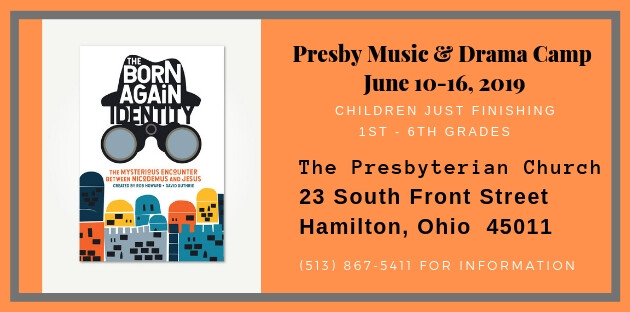 Daily, from 06/10/2019 to 06/16/2019, 9:00 AM - 3:00 PM
REGISTRATION IS NOW OPEN!!
AUDITIONS FOR SPEAKING PARTS: May 21 & 28: 5 - 8 p.m.
Mark your calendars for Music & Drama Camp. This camp for students begins June 10, 2019 - June 16, 2019. Monday - Friday students meet from 9:00 a.m. - 3:00 p.m. to prepare for the presentation of "The Born Again Identity.
As soon as you register your child, you receive a complete script and CD of the songs so they can begin preparing right away! It's quite a feat to put on a musical in a week so the more prepared they are when they arrive at camp, the better!
Performances of this program are Saturday, June 15, 2019, at 11:00 a.m. and Sunday, June 16, 2019, at 10:00 a.m. This program is for students finishing First - Sixth grade. If you have any questions, please call the church office at 513-867-5411. Ask for Rosie Jennings.
Here is a link to print the registration form or you may also stop by the church office Monday - Thursday 9 a.m. - 3 p.m.