The Presby Music & Drama Camp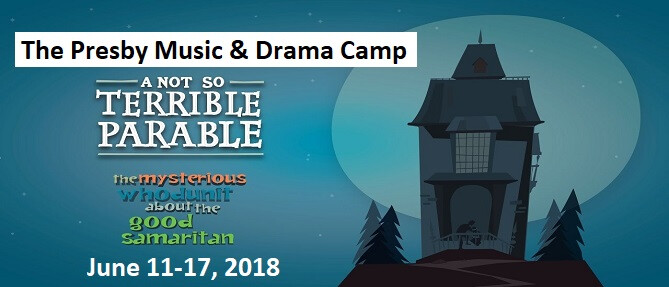 Daily, from 06/11/2018 to 06/17/2018, 9:00 AM - 3:00 PM
This is our fifth year to offer a Music & Drama Camp for children who have just finished 1st -6th grade. It's a really exciting week because the children put a musical together in one week to be presented to the congregation on Sunday! We also do a dress rehearsal on Saturday morning so you have two opportunities to invite friends & family.
This year's musical is called "A NOT SO TERRIBLE PARABLE" - the mysterious whodunit about the good Samaritan. It's going to be a lot of fun to put together! Your children will sing, learn choreography, have recreation, crafts, and Bible Study all in one day . . . oh, and we even feed them lunch! (for the bargain price of $25)
Camp is 9 - 3 Monday through Friday, with a performance at 11am on Saturday morning and 10am Sunday morning. If children come to camp, we need them to make the commitment to be here for the performances!
Also note that there are Audition Dates for those who would like a speaking part. You will need to call and request an audition time.
Please call me with any other questions and spread the word!
Rosie Jennings, Director of Family Ministries
The Presbyterian Church, 23 S. Front Street, Hamilton, OH
513-867-5411