Together for Thanksgiving Service/Hanging of the Greens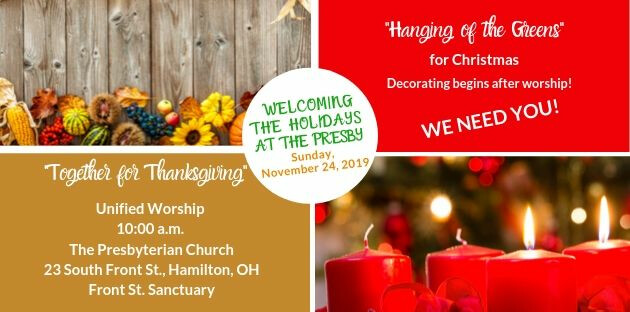 Sunday, November 24, 2019, 10:00 AM - 1:00 PM
Join us at 10 a.m. for a unified "Together for Thanksgiving" service in the Front Street Sanctuary! Music will be led by our Celebration Singers and Praise Team, and Pastor Kim Katterheinrich will deliver the message.
After the service, we will work together to beautify our church for the Advent Season with the "Hanging of the Greens". Come casual if you like that day so you are comfortable and ready to pitch in! The Staff and Worship Enhancement Committee will work together to organize decorations the week before and with "many hands", we should be able to complete the task in a short period of time.
Light refreshments will be served for those who stay to help!
IGNITE Youth will be involved in the decorating and will not have their regular meeting at 5 p.m. that day.