Winter Men's Bible Study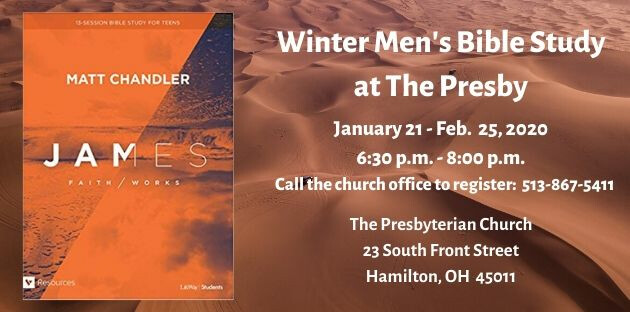 Every Tuesday, from 01/21/2020 to 02/25/2020, 6:30 PM - 8:00 PM
Come join us as we examine the relationship between faith and works in Matt Chandler's study on James! We completed 7 weeks in the fall and will be studying the remaining 6 weeks beginning in January. The class will be facilitated by Pastor John Lewis & Pastor Kim Katterheinrich. Check out some of the benefits of this study below and call the church office to register: 513-867-5411 (Cost for materials is $16.00.)
Gain a better understanding of the Book of James and how to apply its practical wisdom in your life today.
Learn how to deal with trials and temptations, understanding that enduring adversity ultimately brings joy.
Learn to extend mercy, not harsh judgment, to others.
Learn to fight against the passions and desires at war within us.
Recognize the importance of praying for one another in sickness, health, suffering, and joy.
Accept the challenge to speak truth to our brothers and sisters who wander from their faith.