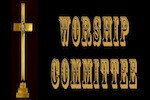 Would you like to volunteer a little of your time? Help the praise service? We need volunteers for the following positions:
10:45 a.m. service:
Greeters (greet at doors, usher, count attendance, etc.)
Volunteer at the coffee bar.
If you are interested in helping with the praise services, please indicate on your CONNECT card, email Cheryl Barrett at , or call the church office, 867-5411. We'd love to have you!